Hello bookworms! How is everybody?
I, again, have to apologise for being a bit missing-in-action recently. I have had a lot of things going on in my personal life which is making me not really have time to be online. I am debating writing a post about why I have been offline a lot recently, mainly to raise awareness of Inflammatory Bowel Disease and Bipolar Disorder, so if it is something you think you'd read please let me know in the comments! It is something I have been thinking of writing for a while now, so I would love to know your thoughts.
Today, I am here to bring you a post about some book series that I hope to begin and hopefully finish in the year 2018. Obviously, as per normal, there are many more than I will be writing in this post.. mainly due to my horrendous memory!
Let's begin!
1. The Illuminae Files by Amie Kaufman and Jay Kristoff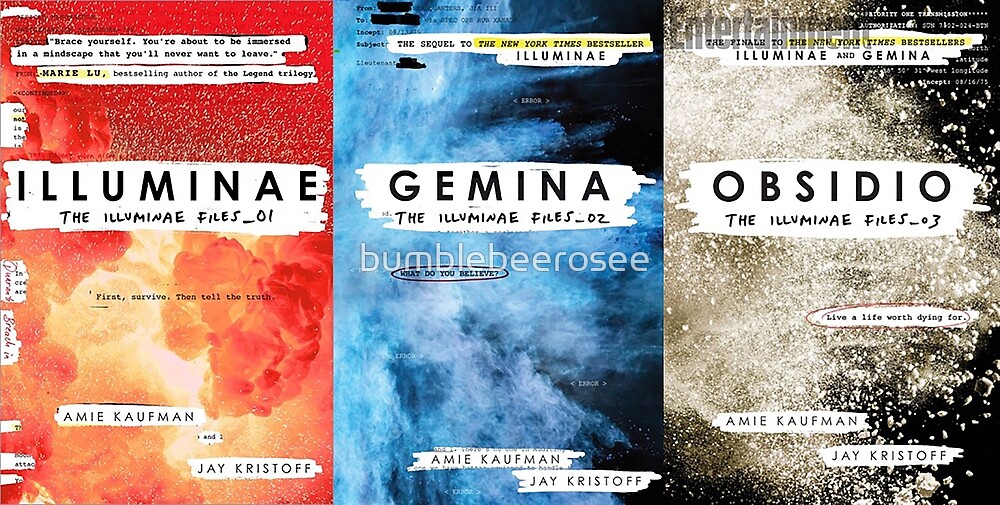 I own the first two books in this trilogy (Illuminae and Gemina) and attempted to read the first book last year. However, I found the layout and format of this book rather hard to read. BUT! I would like to try to listen to this book on audible and follow it with the physical at the same time. I think that would help me understand it a lot better.
The hype surrounding these books are unreal, but it must be for good reason so I am really excited to begin.
2. The Nevernight Chronicles by Jay Kristoff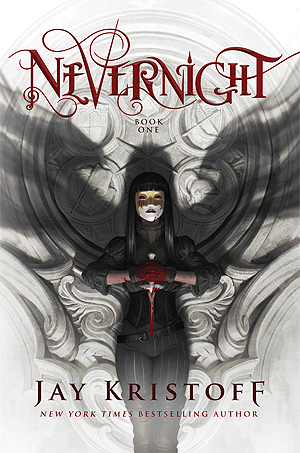 I can't believe that I haven't read this book yet. I attempted to a couple of weeks ago, however I couldn't get into it. I could see why people enjoy this novel, though, the writing was incredible… which is why I would like to try again.
Jay Kristoff seems totally cool, too.
3. A Series of Unfortunate Events by Lemony Snicket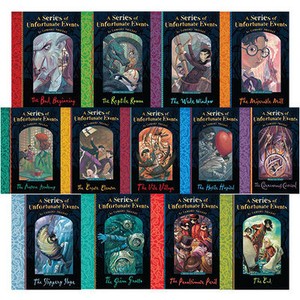 I own the first five books in this loooong book series but they are such small books that it feels like one big one. I really enjoyed the first season of the netflix tv show and the books are highly praised throughout the book community that I can't not-want to read them! Excited!
4. The Smoke Thieves series by Sally Green
I haven't read any other books by Sally Green despite hearing a lot about her other series. This book seems a lot more interesting to me than her others and the cover is gorgeous. I am a sucker for a good cover.
5. The Themis Files by Sylvain Neuvel
I first saw the first book on a booktube channel (I can't remember which, if I did I would link it) but all I remember is that this booktuber really loved it. I don't even really know what it is about, but I'm so easily led when it comes to books… all that has to happen is one person to say that a book is good and I go and buy it…
6. The Charlotte Holmes series by Brittany Cavallaro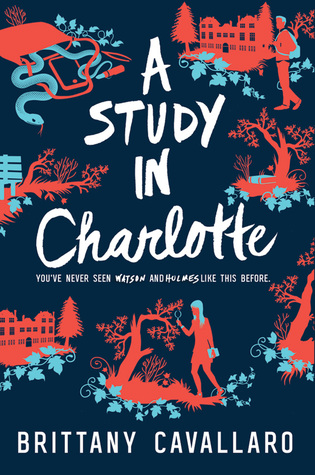 Okay, some of you may know that I really love Sherlock Holmes so to know this book is kinda based off of it makes me need to read it! I haven't heard much about this series but what I have heard is only positive.
7. The Diviners by Libba Bray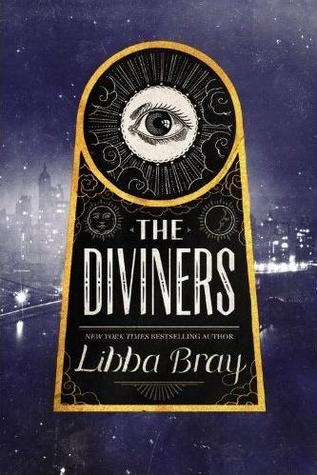 I have wanted to read this for months but I couldn't find The Diviners in any of the Waterstones or WHSmiths that are near my house. I never really thought to buy it online so when I finally saw it in a urban bookstore I snatched it fast! I am excited to read it, it looks so interesting.
8. The Fire and Thorns series by Rae Carson
I have wanted to read this for a while but I can't find it in any bookstores near me or can I buy it on my kindle. I do plan to order this online but not just yet. Hopefully in the coming months, though.
9. The Gold Seer trilogy by Rae Carson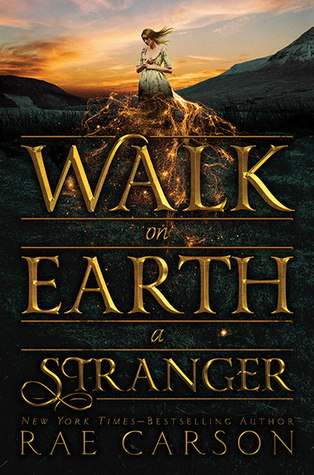 It is the same with this trilogy as it is with the last series I discussed, I can't find these books anywhere in bookstores near me but I will order it online, soon.
10. His Dark Materials by Phillip Pullman
I own these books but I just haven't read them, yet. It seems like such a good series so I have no excuse for not reading these. I know so many people who have read and loved these novels. I also watched the film when I was younger and it was great!
11. The Three Dark Crowns trilogy(?) by Kendare Blake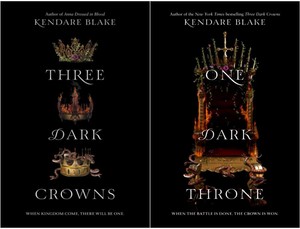 I own both the books that are out so far. I am unsure whether it is a trilogy, duology or series but I've heard it's dark fantasy which is my favourite genre.
12. The Wayward Children trilogy(?) by Seanan McGuire
I know nothing about these novels and what the premise of the trilogy is, but they seem so magical and fantastical that they are really high on my TBR. They are such short books, though, which I am not sure I will like.
13. The Remnant Chronicles by Mary E. Pearson
The Remnant Chronicles have been on my TBR for a while, mainly due to the covers because they are beautiful! I have heard brilliant things about Mary E. Pearson's writing, too.
14. The Lumatere Chronicles by Melina Marchetta
Finnikin Of The Rock has been on my iBooks for years now so I have no excuse for not reading it. However, this is another fantasy book and I love fantasy so much. I have been on a fantasy kick at the moment, too, so I might get to this sooner than the others on this list.
15. The Queen's Thief series by Megan Whalen Turner
I heard about this from PeruseProject on booktube. She speaks so highly of this series and claims it is one of her favourite ever. I like a lot of her favourite books so it seems we have the same taste in books so I do think I will love this series when I get to it.
16. The Queen of The Tearling trilogy by Erika Johansen
I own the first book of this trilogy but am yet to read it. My best friend has read the first book and said she liked it and I fully trust her reviews. Also, again, another fantasy so I am excited to read this.
17. The Queen's Rising series(?) by Rebecca Ross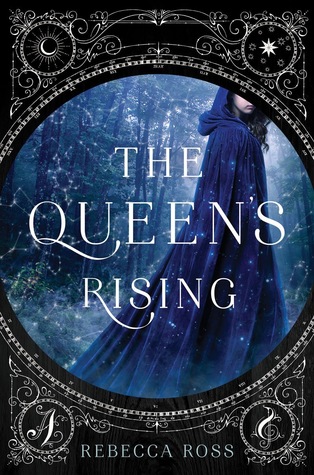 I recently bought the first book and am yet to read it. The cover is gorgeous and I follow the author on Twitter and she seems lovely which makes me want to read the book even more. When the author is lovely it always makes me want to read the book and even more excited for it.
18. The School for Good and Evil trilogy(?) by Soman Chainani
This is the only middle grade book on this list because I rarely read middle grade. However, this series seems rather mature for a middle grade series. Not that I am against middle grade, I just rarely ever read it.
19. The Winternight trilogy by Katherine Arden
I own the first novel and it looks so good! I have also heard it is beautifully written.
20. The Archived trilogy by Victoria Schwab
Victoria Schwab is honestly my favourite. She wrote one of my favourite books ever (Our Dark Duet) and after reading that book I promised myself I'd read every book by her. This one is one I am yet to read.
There you have it! It's a bit of a longer post this evening due to there being loads of series I would like to begin in 2018. I can see that it is rather unrealistic but I am rather motivated due to just really, really wanting to read most of these books.
What are some series that you would like to begin in 2018?
Thanks for reading!
Demi // firstpagewonders xxxx